A Note From The CEO ::
The stock market continues to fluctuate and we are looking at an unsettled economic environment probably for some time to come.  While periods of volatility are not unusual throughout the history of the markets, it requires discipline and patience during these times to stay focused on your goals and invest for the long term.
Our mutual fund launched in late July, just as the stock market's erratic behavior rose to a new level.  The first two-plus months have been challenging, to say the least, but we are committed to the fund and the investment strategies it represents while we continue to carefully monitor them. 
Jerry expands on these topics in his message below.
Early this summer we told you about the passing of one of our founders, S. Jervis "Jerv" Brinton. Jerv was an inspiration to all of us here at Brinton Eaton and was enthusiastic about our business even in his later years.  I never met anyone who had a critical thing to say about him. Everyone who knew Jerv had nothing but praise for his graciousness and professionalism.  He was truly the consummate gentleman.  We have received numerous condolence e-mails and cards from clients and associates, many of whom didn't know Jerv personally. On behalf of the entire staff at Brinton Eaton, thank you very much for your thoughtful notes. 
Jerv always stressed the importance of knowing what clients are thinking about the firm, its offerings, and how it does business. We couldn't agree more and, in keeping with this philosophy, we will be asking you to participate via phone in a new client survey in late October coordinated by Marla and her team. We know you will be candid so that we can continue to improve our service to you.
On the personnel front, we would like to welcome a new "addition" to the Brinton Eaton team: Hannah Elizabeth Rosen, born July 20. Congratulations to Abby and husband Steve on their firstborn child.
Regardless of market conditions — high, low, or in between — we remain dedicated to helping you meet your lifestyle goals with integrity and transparency now and in the years to come.  Thank you for entrusting us with your hard-earned assets.     
Best,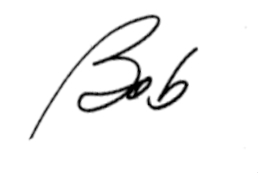 Bob DiQuollo
President, Principal, and Senior Financial Advisor
 
Market Volatility Can Be Unsettling, but Keep Your Strategic Focus
By Jerry Miccolis, Chief Investment Officer, Principal, and Senior Financial Advisor
 
The faith, persistence, and fortitude of even the most steadfast investors have been tested this past quarter in the face of severe market gyrations and the continuing political and economic uncertainty both here and abroad. 
It's easy to stay the course when markets are sailing along, but quite difficult when they are turbulent.   It's during these times in particular, though, when it's critically important to hold true to your long-term investment strategy and not react impulsively, based on emotion.
The dangers of giving in to impulses that are quite natural, but clearly destructive, are well documented.   For example, each year, DALBAR, a leading financial market research firm, releases their Quantitative Analysis of Investor Behavior, a report that measures the effects of investor decisions — good and bad — on investor returns.   Their findings remain consistent: Investment results are more dependent on the behavior of investors than on the performance of their investments.   Their key result: The returns of the typical investor are less than half the returns of the instruments they invest in! 
To take a specific case in point, the annualized total return of the S&P 500 Stock Index was 9.1% over the 20 years ending 12/31/10 (a period, by the way, that includes the so-called "lost decade" for stocks); the annualized return for the average equity mutual fund investor over that same period was 3.8%.  Think about that for a moment.   A $100,000 investment on 1/1/1991 in a simple S&P 500 index fund grew to over $550,000 by 12/31/10.  In the hands of the average investor in equity funds, however, that $100,000 grew to only $212,000, barely beating inflation.   That lost opportunity of over $338,000 is gone forever.
These findings merely reinforce what we see over and over.  Investors who changed their investment philosophy from aggressive to conservative, or vice versa, based on market behavior consistently underperformed those investors — of either philosophy, or any in between — who stayed steadfast throughout.
What explains these results?   Left on their own, investors will let their emotions — their fear and euphoria — lead them to exit and enter the markets at precisely the wrong times.   It is one of the reasons individuals delegate investment management to professional advisors, so they can distance their investment decisions from their own emotions. 
We know these are trying times.   Markets are incredibly volatile at the moment.   They are reacting more than ever, not to economic and financial fundamentals, but to (i) political debates here and abroad (from the debt ceiling in the U.S. to the sovereign debt situation in Europe), and (ii) the whipsawing effect of widespread high-frequency program trading, which amplifies market movements.   While both of these influences exacerbate short-term market fluctuations, neither has much to do with the essential forces that dictate the long-term trend in capital markets.  In short, markets go up, markets go down; in the long term, they go up.   They are impelled by unrelenting underlying economic activity that incents profit-driven enterprises to deliver goods and services to consumers who want to buy them.   That will always be the case.   Successful investors are not cowed by the noise that accompanies short-term cycles, however loud and disturbing.
On July 19, we launched our new mutual fund.  Almost immediately thereafter, the  EMERALD- and ASTRO-based notes that make up a sizeable portion of the fund encountered their worst-case scenario: a rare, uninterrupted run of daily stock market movement in the same direction for more than a week.  From July 25 to August 8, the S&P 500 Stock Index declined in 10 out of 11 consecutive trading days, including a remarkable seven days in a row.  (Historically, going back to 1928, the chances of a seven-day decline occurring were less than 0.5%.  And this phenomenon has become almost four times less likely in the last 25 years.)  We continue to actively work, in close collaboration with Deutsche Bank and Barclays Capital, to cure this known but narrow vulnerability of the notes.  As we have repeatedly said, we are constantly searching — regardless of market conditions — for ever-better portfolio safety nets. And because we are completely devoted to achieving the best investment result that we can for you, this quest will never be over, even when we feel we have found the next best approach. 
The fund has been recovering from its August 8 nadir, reacting well to other multi-day market declines since then (due, in part, to certain tactical defensive moves that the fund newly permitted us to employ), and we remain committed to its underlying risk management concepts and strategies.  Please remember that the fund was not designed to provide insulation from every sort of short-term market disturbance, and its benefits were always expected to be manifested over the long term, spanning several market cycles.  In the meantime, we appreciate your forbearance with the fund over its first few, and very challenging, weeks.
Most of all, we appreciate your continued trust in us as stewards of your financial future.  As always, we are confident that those who stay true to their long-term investment strategy will be rewarded for their patience, and yes, their faith, persistence, and fortitude. 
Please call us with any questions along the way.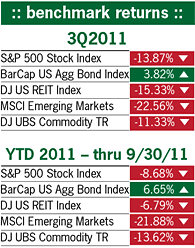 BE Team Update ::
In Attendance ::
Marina attended the State Street Global Advisors RIA Partners Symposium in Boston September 26-27.  The conference goal was to provide thought leadership on numerous aspects of investment management.
Colleen and Mary Ellen attended a continuing education class on the taxation of life insurance and non-qualified annuities at the Basking Ridge Country Club on September 15.  The event was sponsored by Peapack Gladstone Bank.
On September 7, Marla attended the New York City CMO dinner with top Chief Marketing Officers in attendance, sharing ideas and cutting-edge topics.  The featured speaker was the Adriana Rizzo, Vice President of Marketing at ESPN, who spoke on the value of mobile communications to customers.
Marla attended the Financial Women's Association of New Jersey annual dinner on August 25.  The Financial Women's Association is a leading professional organization that connects, educates, and advances women in business and finance.
In July, Bob attended an AICPA conference in Boston about upcoming estate tax changes. Under the current estate tax situation, there is a two-year window in 2011 and 2012 where the exemption is $5 million and the tax rate is 35%, which allows significant estate tax planning to take place. It's important to be aware of the fact that in 2013, the law will revert back to a $1 million exemption and a 55% tax rate unless Congress intervenes. Stay tuned—we will keep you posted.
On June 27 – 30, Jeremy attended a NAPFA strategic planning session in Chicago.  Jeremy is President of the NAPFA's Northeast/Mid-Atlantic Region Board of Directors.
For the Community ::
On September 28, Marla, Colleen, Mary Ellen, Ellen, and Melissa attended an event hosted by the Women In Business Committee of the Morris County Chamber of Commerce on work/life balance.  The program featured a discussion by two authors on the topic and Brinton Eaton served as the book sponsor.  Marla was part of the planning committee for the event.  
Marla participated in The NJ Sharing Network's annual benefit golf tournament at The Barclays in Plainfield on September 26.  The goal of the NJ Sharing Network is to increase the number of lives saved through organ and tissue donation.  Marla sits on the foundation's board.
Bob and Matt participated in a golf outing at Roxiticus Country Club in Mendham on September 20 to raise money for Down Syndrome research.     
Client Reminder about Required Minimum Distributions
During the fourth quarter, we will be processing Required Minimum Distributions for clients with affected IRAs. If you have any questions, please contact us.
BE In the News ::
"Can Volatility Be Tamed" – Financial Advisor
 
"The market collapse in late '08 is what started us down this road," says Jerry Miccolis, Chief Investment Officer at Brinton Eaton, a Madison, N.J. wealth manager.
 
"Beyond Wealth Management" – Mann on the Street
 
A Profile of Jerry Miccolis
 
"Goodbye, Old Theory" – On WallStreet.com
 
"…One of the conference presenters I've been talking to, Jerry Miccolis of Brinton Eaton Wealth Advisors, spent 25 years working at Towers Perrin before he moved into the financial services world."
 
"Pension Cash Outs are Coming" – Financial Advisor
 
"Deciding whether to take the pension or the lump sum hinges on many variables, according to David M. Hill, a financial advisor at Brinton Eaton, a wealth advisory firm in Madison, N.J. 'There is no cookie-cutter solution. It's a client-by-client decision,' he says."
  
For more Brinton Eaton in the media, please visit http://www.brintoneaton.com/media/in-the-news-2/
Brinton Eaton helps affluent clients protect, grow, administer and ultimately transfer their wealth. We aim to provide a worry-free state of mind that enables you to continue to lead a financially independent and deeply rewarding life.
If you are not already a Brinton Eaton client, and are interested, contact us for a no-obligation consultation.
Volume 2, Issue 3